There was once a young girl who had a big imagination. She dreamed of fairies and princesses and ruling the world one day with her handsome prince charming beside her. As she grew up, the dreams of fairy tales faded, but not her ability to dream. She remained a believer. Not in magic and Disney and fairies anymore, but in herself and her ability to rule the world if that's what she wanted to do. I am a very lucky girl, my parents are amazing and I was brought up believing anything and everything was possible. Like everyone, I still doubt myself & I am my own worst enemy sometimes, but when my confidence pot is topped up by my parents, or grandparents, or friends or the Mumpreneurs, then I really do believe I can achieve anything I set my heart on.
This weekend was the Business Northumberland Big Event. The thing that has filled me with excitement and dread in equal measure for the past month! The day didn't start the best, I was late up after an unsettled night, the nerves getting the better of me. But when I walked through the front door I took a deep breath and tried to ignore the knots in my stomach! I signed in, picked up my name badge and strutted through the double doors into the exhibition space. I was blue zone & had a blue tshirt to put on. Seeing Gillian put me at ease & she introduced me to other members of our blue team. As well as Business Northumberland advisors, there were other entrepreneur representatives and it was great hearing their stories as we talked to delegates throughout the day. Dean from DJS Telecare Ltd was a fellow blue t-shirt wearer. I had seen his company name before, tagged on twitter in the same posts as me by Business Northumberland in the build up to the event. Dean is a really lovely guy, quiet and reserved, and his business is great – he provides "intelligent personal safety solutions to enable people to feel protected and secure in their environment" – in a nutshell he can enable the features of warden-controlled accommodation for people in their own homes – a great idea to keep an eye on elderly relatives whilst they maintain their independence. Also in the blue zone was Keith Newman of Highlights PR, I'm told the man to know and PR guru for the North East! I can't wait to visit Keith's floating office – that will be an interesting blog topic as I get seasick just thinking about it!
The room started to fill up with people and Colin from Business Northumberland suggested we introduce ourselves to people who had arrived early and taken a seat at one end. So hands trembling I headed over to the first table and introduced myself and asked if I could join the two ladies sitting there. After what felt like a nervous hour but was more like a few minutes I found my voice and was able to talk to them both at length, offer them advice and share my experience & expertise. I think I would have stayed there all day chatting but I heard my name being uttered and advisors were sending people my way to have a chat about my services. After giving lots of advice, and even more business cards, I was able to take a seat to hear the second of the three guest speakers Glen McCrory, I had missed the first speaker Angela Dawson, The Admin Doctor, as I was busy advising at the time! Glen shared his story, he talked about how he came from nothing to literally rule the world – in boxing circles that is becoming a world champion! Glen was keen to tell us he is not a motivational speaker but his story is one all entrepreneurs can all relate to – he wanted to be world champion and he worked and tried and worked even harder until he got there. Perseverance, determination, passion are all qualities we need to make a success of our businesses. If that's not inspirational I'm not sure what is! Glen's new passion is food, he loves to cook, and we Northumberland Mumprenenurs will be first in the queue for a burger when his kitchen in Newcastle opens in a few months time!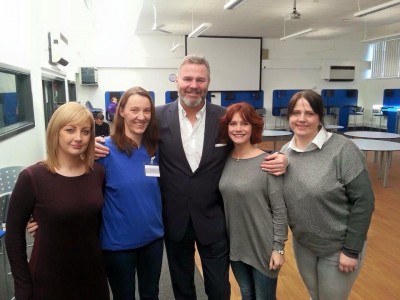 After a quick bite to eat and some more advising and networking it was time for the final speaker of the day – Katie Bulmer-Cooke. I'll admit I don't watch The Apprentice, its frustrates me and I find myself getting annoyed at the TV which is not my idea of entertainment! But I will be looking Katie up on YouTube as she is such an inspirational lady that I want to learn more! Katie is very down to earth and says things like they are. She feels like a breath of fresh air in a northern accent! Katie spoke about how she started, decisions she made, the determination she had, and having the courage and confidence to grasp opportunities and make the most of situations. Katie definitely hit a chord with me when she talked about getting out there, pushing and promoting your business. Like Katie, I am my business & pushing yourself outside of your comfort zone is a must and I will be doing just that from now on! There was a brief question and answer session at the end and then we were able to speak to her, I told her about the Northumberland Mumpreneurs and she could completely relate to our struggles as mumpreneurs as one herself! So Katie if you are reading this on behalf of the Northumberland Mumpreneurs we would like to make you an honorary member of our group – and the most inspirational member to date!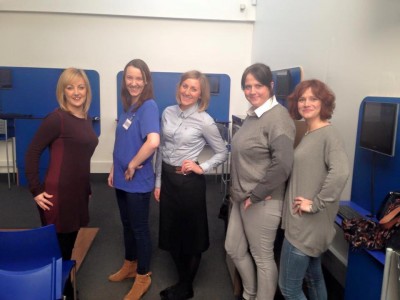 So that was the event. It blew me away in terms of networking, confidence building, motivation. I am completely inspired by Katie and all that she has achieved and I want that! I came home to my Mum, my Grandparents and the kids and shared my excitement and basked in their admiration. I feel so lucky to have been given the opportunities I have over the last few months. I feel privileged to have met the wonderful ladies of the mumpreneurs who inspire, support and encourage me on a daily basis. I feel special to have a wonderful loving supportive family. But most of all I feel proud because I achieved this. I decided to start my business & the Northumberland Mumpreneurs. I grasped the opportunities, and I used the support to fill my confidence cup and I put myself out there despite the nerves. I did this and it feels amazing! And it makes me want more!! So watch out 2015 as this bookkeeper is coming and she is on fire!!! And the toddler has just peed on the floor, champion!