My new planner has yet to arrive and I feel a bit in limbo, like it is a crutch to my productivity, my goal planning and my ever increasing task list! Which is ridiculous I know I am ultimately responsible and I hold all the power! But yet again I have signed up for yet more marketing bumf – this time a free 14 day improve traffic website challenge that I have yet to open the day 1 email for (think I've got 4 days worth so far!) But I am sure that this planner with its personalised weekly goals, task list and notes section will be the key to me getting properly organised and less distracted!
That's not to say I haven't been busy – because I have! Inspired by The Girls Mean Business I have thought long and hard about what my facebook likers might want to see, and how to get more engagement. So I now have structured daily posts, designed on Canva with my new GA Bookkeeping NE branding. I have set posts on set days and hopefully in time it will get established and people will engage with the page! I have also redone my website www.gabookkeepingne.com in keeping with the new branding and then spent an almost sleepless night trying to work out key words and all that jazz. but that's not nearly as complicated as Google+ in my opinion, but that's another story, I don't wish to relive the nightmare of trying to set up one page and ending up with three! I can totally understand why there are so many social media management businesses now, and I can't wait to earn enough to hire one!!
My final act of extreme busyness this week has been setting up my swanky new office. Cleaning and clearing and sorting and reorganising. I now have the ultimate workstation and my office is complete with rocking chair with views of the garden, toddler slide and play area! Yep you guessed it, my swanky new office is in our conservatory! Still need a couple of extra layers on before I go in but I have a sign on the door so that makes it a proper office. And I am very excited!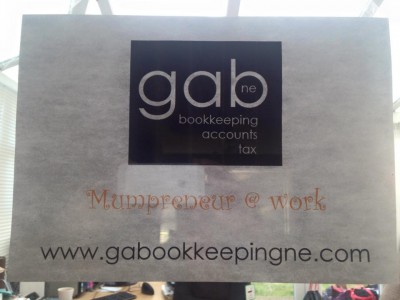 Now that I have a proper workstation (no more dining table yippee!) there's no stopping me! Little legs has been quite happy watching the birds, playing on her slide and sorting paperclips so I think this is a good move. So now the dining table has been reinstated to its proper use and our open plan house is no longer cluttered with accounts paraphernalia and equipment, and the tension that has been lingering like a bad smell for the past month has dissipated, the sense of calm is very welcome! Its also nice to have the separation – I can now shut the door and leave work behind, although I am currently on the sofa at 1am with the laptop on my knee. And as the husband is away at work I haven't been switching off my phone of an evening either! But its company and keeps me occupied in his absence, otherwise it would be just me, the TV and the snoring Labradors! When he returns in 8 days I will be back to switching it off, though he is currently embarking on his own new business adventure so we'll see how it goes now roles are reversed! Its hard when you embark on this journey and you share your life with loved ones, family and friends who don't understand it, they don't share your passion – its your business, your baby, not theirs. Its hard to share excitement in something they just don't get! But now he does get it, now he shares the ambition, the drive, the determination for my business as well as his own. And its great to be able to support him fully as I know exactly how he feels! My husbands journey is in network marketing, something I knew didn't understand and knew little about so I am learning a lot through him. He is part of a team who served together in the army & although that chapter of their lives was over some time ago, the comradeship and brotherhood is still very much alive and the support they have for each other is much like me and the Northumberland Mumpreneurs, although we haven't survived a war together just the never-ending battle of motherhood! I am inspired by their energies and their stories, and I feel proud and privileged to be able to support them like I do the Mumpreneurs as well. One of Team Elite, Ross Austen, has a particularly inspiring story you can check out his website here www.livelifetotheplus.co.uk.
Well its now gone 1am and the toddler is wide awake – joy! Didn't let her nap today to try and get her to bed at a reasonable hour, I guess that's backfired! So instead of heading to bed I shall now be watching back to back episodes of Bing bunny until she dozes off again! Still, silver lining and all that gives me more chance to schedule some twitter posts or prepare for Thursdays Mumpreneurs meet up! This one is the biggest yet with 28 confirmed attendees in the facebook event! I shall definitely be writing after that, I think I will have much to download that night!!!