I can't believe it is the end of June already! My last post
was the end of April, a shockingly fast 3 months ago! Apologies avid readers
(and my perpetually busy mind which needs the regular download!)
A lot has happened in the last 3 months. We hosted our first
Northumberland Mumpreneurs Event, Chocolate Tea Party in aid of Sick Childrens
Trust. The event was a bit last minute, very chaotic & a tad stressful but
enjoyed by those that came both visitors and participators and we managed to
raise £155.50! You can read about it in our blog here.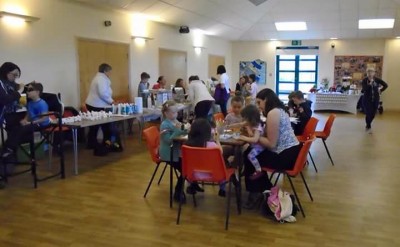 We've had a whole host of guest speakers at the mumpreneurs
meet ups – from holistic therapist Yvonne Bruce of Try Therapy who ran a
fabulous EFT workshop; to Victoria Fleming from Buzztastic Ltd who wowed and
inspired us with her sales secrets; to Graham Soult of Canny Insights who
showed us how to pep up our kerb appeal. We have also chosen our first
Northumberland Mumpreneur of the Month the lovely Kirsty Slaven with her
business Little P's Pretty Occasions and the first mumpreneur newsletter is
well into production! Oh and in further news Northumberland Mumpreneurs is now
a limited company and is receiving support from the fabulous Cris Napier of
PNE. The group continues to inspire and motivate me, we had our first social
media brain storming session this morning and are planning a monthly accountability
meet up. With the support of each other we will achieve our dreams! Which leads
me nicely onto my main topic for discussion today!
GA Bookkeeping NE is keeping me busy things are going from
strength to strength & as my workload is increasing I am finding managing
my time to be my biggest hurdle at the moment. Apparently I am very good at
planning, less so at doing! Anyone else like writing lists too?! And having a
tantruming toddler, a very elderly Labrador & a husband who is on standby from
work in the house not to mention the ever growing bump is adding to my daily
challenge! Exhausted just typing that! So I have a new goal which is to get
more physically productive, get into a routine & keep my motivation up so
by the time this bump becomes a baby he will seamlessly fit into my well-oiled
GAB mumpreneur machine! With the help of practicing positivity and gratitude,
daily meditation (using the fabulous app Headspace if you haven't heard of it I
highly recommend!) creating a work in progress board for clear visibility of
the jobs I have on, using a weekly planner & time blocks to plan my working
week in advance and splitting my new ultimate to do list into 3 achievable daily
tasks – I should be onto a winner! Got the tools I need in place just need to put
the plans into action now. One of my new favourite quotes is "Whether you think
you can or think you can't you are right" – I am the only person stopping me
from fulfilling my goals. And after a fabulous workshop with Gillian Smellie of
Lifecycles last week where she shared her secrets for turning dreams into
reality I am determined to achieve! I have my goals. I have the tools. To paraphrase a famous 80s childrens cartoon character "I have the power!".